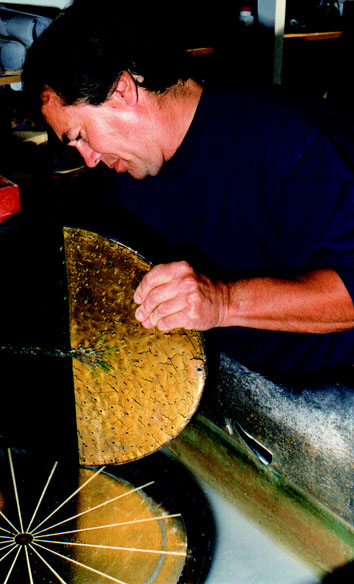 1.How everything began
Already very early, I knew what I wanted to do and what to become! In my dad's workshop he was a painter there were always bits and pieces of glass, to play with and to create things, and sometimes, this gave me also bloody fingers! Only when you touch and feel something, you also comprehend.Glass awakened my creativity. Thus my early urge to do something with glass! After my apprenticeship as a glass painter, and after my education at Hadamar as a master craftsman, I became a designer in the glassware industry. I designed and I am still doing so almost exclusively pressed glass hollowware. The work gave me a lot of pleasure, but, as very often the case when designing mass produced products, it leaves a creative void. The wish for bloody fingers returned and to enjoy a life filled with creativity.
If I would be a painter, painting aquarelles and oils, it would not be necessary to explain too much about the techniques used. But my story might contribute to better understanding of my work. Not too many people know too much about glass. This material is not as frequently used as, for example, ceramics, where you can achieve some spectacular results fairly quickly. My first years were taken up by searching for old production techniques for my ideas. I experimented with about everything which could be used on or with glass. I found some hints in old instruction books, for example the copper-ruby-etching, an invention of the famous Mr. Kunkel, director of the Potsdam/Berlin Glass Factory (1630 - 1703). These recipes were used by me, too. My techniques, which I used and am still using, are not only based on traditions. Most was learning by doing. Some time or other I started experimenting with the so-called lustre colours, as well as gold and platinum. From now on I started to experiment with everything that was possible in glass. I even used old, used bottles and I tumbled from one disaster to another. However, I had already many contacts with various galleries since the early Eighties, and the urged me to continue. Nothing is more important than having some success in such a phase!-Experience is a basis for comprehension!
Parallel to my own experiments, my boss in Siebenstern, Mr. Juergen Walther, established the Vera Walther Glass Manufacture with its artistically manufactured products. He encouraged me to market my creations und his name. We were very successful. Vera Walther had good marketing and, Helga, my wife, and I were hardly able to cope with everything. Already now, it was quite difficult to find some spare time for additional experiments. I forced myself to use every firing for a small experiment.Over and over again I was inspired by old glasses, basing further experiments on them. I was enthused by the mostly Bohemian Zwischengoldglaesern -a layer of gold between two layers of clear glass of the Early Victorian period. Gold is a beautiful and expensive medium, but combining it with glass was not easy. It can be easily damaged on the surface of the glass by mechanical influences. Therefore, the glassmakers of that period had the idea of protecting the gold with a second layer of glass. This was achieved in the cold stage, i. e., the glasses were glued with sodium silicate or resin. Beautiful glass vessels were thus created mostly drinking glasses for the nobility. Whatever is still left and still available is very precious and of unrivalled beauty. It was my aim to fuse gold and platinum in such a way with the glass that the precious metals were kept intact under a layer of glass. In the beginning, that was a great problem. The first attempts were pitiable! But after a while I discovered that by using just the right amount of the metals and the right firing process, the results were getting ever better. I liked the challenge to find new ways and cross the borders set by the material. This wakened my creative powers. Since the beginning of the Nineties, I am fashioning those creations - which are shown here in these techniques. Mostly unique items, but also some in small series.
Double-bottle with pink lustre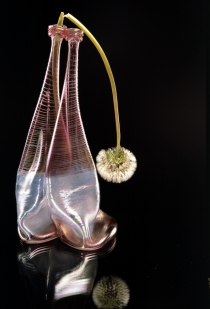 Recycling objects, painted with lustre and deformed; used bottles which I produced for 10 years for Vera Walther
2.The Technique
In the past 20 years in which I have experimented with glass fusion, the fascination for glass has grown ever more. I have had quite a range of projects for which I had to find solutions, either in design, or in the techniques. The general description of the techniques used by me is the "Fusion Technique", as the glass is fused. This could be either glass rods placed next to each other, or strips, or sheets placed on top of each other. American glass artists started a new movement at the end of the '70-ties. Art glass was very popular. These American artists worked with prefabricated glasses and it was very easy to achieve outstanding results. The disadvantage (for me) was, everything looked the same no matter by whom it was created. I tried this also, but only for a short while. My basic material is now always "sheet glass like window panes!" The proper name is "float-glass". All my creations have a minimum of three layers of this sheet-glass 4 mm thick plain, and with a greenish tinge which stems from the iron contents of the sand. These panes (sheets) are cleaned and then decorated with gold and/or platinum. The next step is the firing of it in the kiln. The kiln is flat like a table and quite comfortable to work at and with. After the first firing, the individual sheets (panes) are further decorated with oxide paints, and drawings are etched into the gold and platinum. After completion of the decorations, the decorated sheets are placed into the kiln with one or two cover sheets. At a temperature of 800 degrees Celsius, the 2, 3, 4, 5, or 6 sheets are fused into one! You have to be very careful when reducing the temperature of the kiln; otherwise tension builds up in the now rather thick piece of glass resulting in cracking or even complete breakage. Depending on the glass thickness the controlled annealing (cooling off) process requires 24 to 36 hours. Even after so many times I have been doing this it is still a big thrill to me! And since I am an impatient person, it also involves a lot of stress for me. The harvest from the kiln is a thick sheet with paintings inside which can't be changed anymore. In case it is a painting a picture I just have to put it into a frame and it is ready! With the bowls, plates, and vases, I have to cut the edges and rims. After that I put them onto ceramic moulds and they are reheated gradually. The objects now sink slowly into the moulds by their own weight. The following annealing process is the same as after the first firing.No material is as flexible as glass. It is the most rudimentary of all. It reflects the sky and the sun, it is like clear water, and it possesses an abundance of possibilities in color, shape, and character, which hardly can be exhausted and which does not leave anyone indifferent to it.
3.
MY MOTIFS AND MY PHILOSOPHY
Many pieces have thus been created over the years. I have always been enthusiastic about simplifying objects from my environment and from nature. Leaves, fishes, snails, landscapes, houses, and books this is my latest subject are being converted over and over again to simply, graphic motifs. Also my love of the sea and maritime objects is being expressed in my works, the works where the artistic quality is emphasized. First of all I feel like a skilled craftsman! I would like to consider my works as an independent contribution to the German Glassware Arts and Crafts. There, the conception of skilled crafts was and still is always "flowing". "Art" is only a component of the word. I am convinced that many of my creations will survive me and also this time in which I am living. Only sheer, brutal force could destroy them. My bowls, pictures, and paperweights are highly protected against all environmental factors, ultra-violet rays, and attacks with acids. Like the fly embedded in a piece of amber my works are fused messages destined for the coming generations.
---
I would be very pleased about a few "nice" remarks and comments in my
Guestbook
Anschrift und Telefon:
Goldglas GmbH,
Gottfried-Buerenweg 45 ,
in 33014 Bad Driburg
City map
Telefon: 05253/3779 Fax.: 05253940929